Google
has
released Android 14 Beta 2.1
to kill off some of the bugs that have been impacting users. Sometime next month we expect Android 14 Beta 3 to be released and at that time the software is expected to be at platform stability. This doesn't mean that it is 100% safe to install the beta and it will still be unstable. However, it does mean that developer APIs and app-facing behaviors are final and those who don't mind taking some risks will get an early shot at using Android 14. The final stable version of Android 14 should be available in August.
The Android 14 Beta 2.1 update can be downloaded by going to
Settings
>
System
>
System update
. Follow the directions. Now if your Pixel is subscribed to the QPR3 Beta program, the following is important. If you check for a software update it will say that one is ready but you must closely examine what the update says. It is Android 14 Beta 2.1. If you have no intention of joining the Android 14 Beta at the moment, do not tap the button to install it or else you will find yourself in the minefield that is the Android 14 Beta program.
Buy the Google Pixel 7a now!
If you are running the QPR3 Beta program, ignoring the Android 14 Beta 2.1 update will allow you to receive the next QPR3 Beta update. On June 5th, we could see the last and final version of Android 13 QPR3 released (aka the Quarterly June Pixel update), and subscribers to that beta will be able to exit without any penalty once they've installed the stable version of the update on their phones.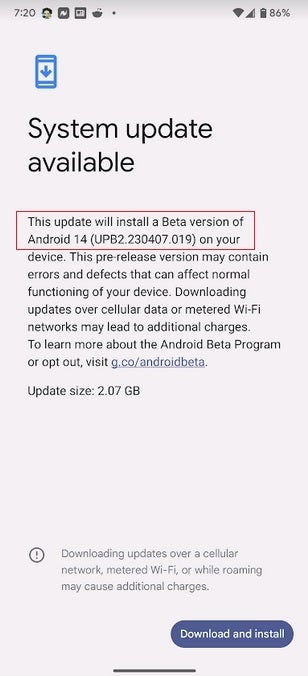 If you're on the QPR3 Beta, don't accidentally install today's Android 14 Beta 2.1 update
Android 14 Beta 2.1 fixes the following issues:
Fixed more issues that could cause the battery percentage to display as 0% regardless of the actual charge level of the device. (Issue #281890661)
Fixed issues that sometimes caused audio disruptions with the device's speakers. (Issue #282020333, Issue #281926462, Issue #282558809)
Fixed system stability issues that could cause apps or the device to freeze or crash. (Issue #281108515)
Fixed an issue with always-on-display mode when using a device with Android Auto. (Issue #282184174)
Fixed an issue that sometimes caused the Google Photos app to crash when trying to open certain photos.
Fixed an issue where, while gesture navigation was enabled for a device, putting a video into picture-in-picture mode in the Google TV app made the picture-in-picture window disappear, even though playback continued and audio could still be heard.
Fixed an issue that caused the Google Contacts app to crash when managing account settings.
Fixed an issue where the icon for the Google Messages app did not display for notifications when always-on-display mode was enabled.
Android 14 Beta 2.1 is available for the Pixel 4a 5G, Pixel 5, Pixel 5a, Pixel 6, Pixel 6 Pro, Pixel 6a, Pixel 7, and Pixel 7 Pro.