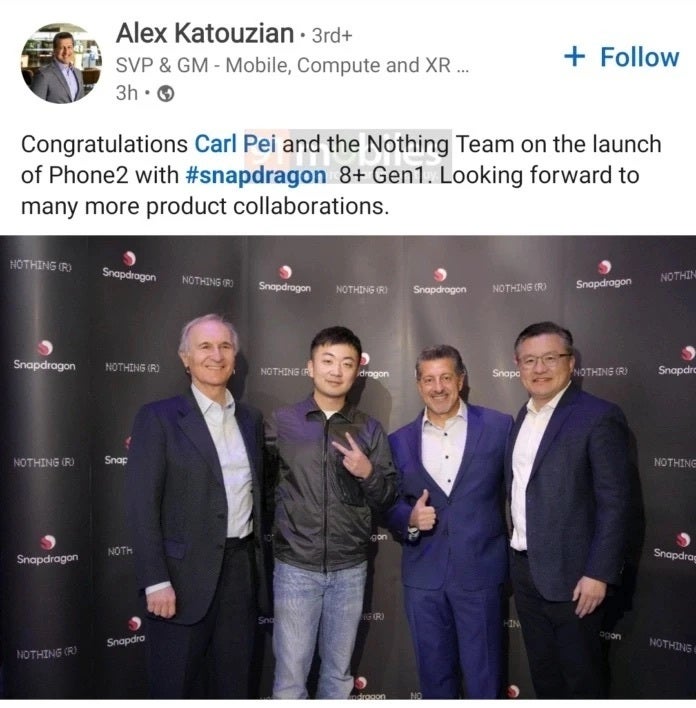 Carl Pei has been known to keep an ear to what is happening in the tech community, and discussion around the expectations for the Nothing Phone (2) is no exception. To address the rumors, he took to Twitter himself this morning to confirm what everyone already knew:
There has been a lot of discussion ever since we announced that Phone (2) will have a Snapdragon 8 Series chipset. Well here's some news – it's going to be the premium-tier powerhouse Snapdragon 8+ Gen 1. A clear upgrade from Phone (1). Let's talk about the key differences pic.twitter.com/l5NwCxDAVa

— Carl Pei (@getpeid) May 18, 2023
Besides confirming that the Nothing Phone (2) will indeed have a Snapdragon 8 Plus Gen 1 chip, Pei also took the time to explain the benefits of going with this chipset over others. Firstly, he highlighted the performance boost that this SoC will bring to the Phone (2) when compared to the Phone (1), which twice as fast according to Nothing's in-house testing. Other benefits he listed were improvements in battery life, network connectivity, and camera capabilities.
Sometimes the latest technology comes at a cost which isn't always justified from a user benefit standpoint. Choosing Snapdragon 8+ Gen 1 ensures that Phone (2) remains accessible while delivering a significantly improved experience compared to Phone (1).
As far as camera capabilities, Pei also confirmed that this chip upgrade will make it possible for the camera to have advanced features such as Raw HDR and 4K/60fps recording capabilities. Finally, he explained that cost was also a factor in the decision to go with the Snapdragon 8 Plug Gen 1 instead of the latest and greatest chipset, adding that he wanted to keep the Phone (2) accessible to consumers while also delivering a premium experience to its users.