We've already passed along the word of reliable tipster Ross Young, who is co-founder and CEO of Display Supply Chain Consultants (DSCC). Young says that the iPhone 16 Pro will feature a screen between 6.2 and 6.3 inches
while the iPhone 16 Pro Max display will measure between 6.8 and 6.9 inches
. Actually, Young says that he knows the exact size of the glass on both devices and will share those numbers at an event later this month. Young will also pass along the new aspect ratios for the 2024 iPhone Pro units.
If you want to see how much bigger the iPhone 16 Pro Max screen might be compared with the current 6.7-inch iPhone 14 Pro Max (and the upcoming iPhone 15 Pro Max),
9to5Mac
obtained CADs (Computer Aided Designs) showing how the 2024 top-of-the-line iPhone will have the larger 6.9-inch display and will also be a half a mm thicker at 77.2mm. It also will be 5.2mm taller at 165mm.
The larger display for the iPhone 16 Pro will reportedly allow Apple to stuff a periscope lens in the iPhone 16 Pro. The folded-up camera uses mirrored prisms to keep light from the lens moving toward the image sensor. The result is that users will enjoy optical zoom at a level that would normally be impossible to offer because of the size constraints of a smartphone.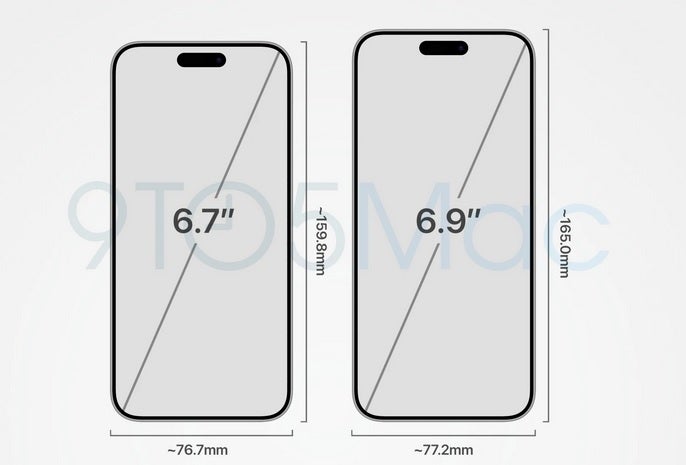 CAD image compares the 6.7-inch iPhone 15 Pro Max display with the rumored 6.9-inch display for 2024
Apple is expected to debut its first periscope lens on the iPhone 15 Pro Max this year and have it on both iPhone 16 Pro models next year. While currently the iPhone 14 Pro Max delivers 3x optical zoom, the periscope lens on next year's iPhone 15 Pro Max could allow it to offer 5x-6x optical zoom.
It's hard to remember that the iPhone carried a 3.5-inch display until the iPhone 5 was released with a 4-inch display. At the time, Android phones were over 5 inches and the Galaxy Note II featured a 5.5-inch display.
How big will iPhone screens get until we start hearing that enough is enough? For some reason, I'm thinking 6.11-inch to 7-inch displays might be as far as we go. Considering that
Apple
kept the iPhone at a maximum screen size at 6.7 inches for four years (iPhone 12, iPhone 13, iPhone 14, and iPhone 15), any change beyond 6.9 inches might not surface until after 2027.