BT was one of the first broadband providers to introduce discounted tariffs for low-income families that otherwise might struggle to pay for internet access. It's called Home Essentials and anyone on Universal Credit (as well as other benefits) in the UK can sign up for it.
BT Home Essentials costs £15 per month and has download speeds of up to 40Mbps: the exact speed will depend upon what's available at your address – it could be lower. BT offers a "Stay Fast Guarantee", which is the minimum speed you can expect and you can find out what it is by entering your postcode on BT's website.
The discounted rate is reduced from the usual price of £26.99 per month. The only extra to pay is a one-off £9.99 postage fee to send out the BT Smart Hub router, which is included as part of the plan.
For those that can afford more and want faster speeds, for an extra £5 per month you get up to 74Mbps, which is twice as fast, plus there's unlimited phone minutes instead of 700 with the £15 per month tariff.
You'll have to sign up for a 12-month contract regardless of which plan you choose. But since there are no early exit fees, you can cancel at any time without being penalised. Pus, you'll continue to pay the discounted rate even if you come off benefits during that period. After 12 months, your eligibility is reassessed.
The reduced tariffs, which BT says are being provided "at cost", offers savings of over £330 per year – a welcome amount to those hit hardest by the increased energy, fuel and food prices.
Get BT Home Essentials broadband
BT Home Essentials at a glance
£15 per month for 36Mbps average download speed, with 700 minutes of calls to UK landlines and mobiles or;
£20 per month for 67Mbps average download speed, with unlimited calls (to UK landlines and mobiles)
£9.99 postage and packaging cost
No additional line rental costs
12-month discount even if benefits end during that time
No early exit fees
The actual download and upload speeds you'll get are dependent on your postcode: the figures in the image below are simply an example.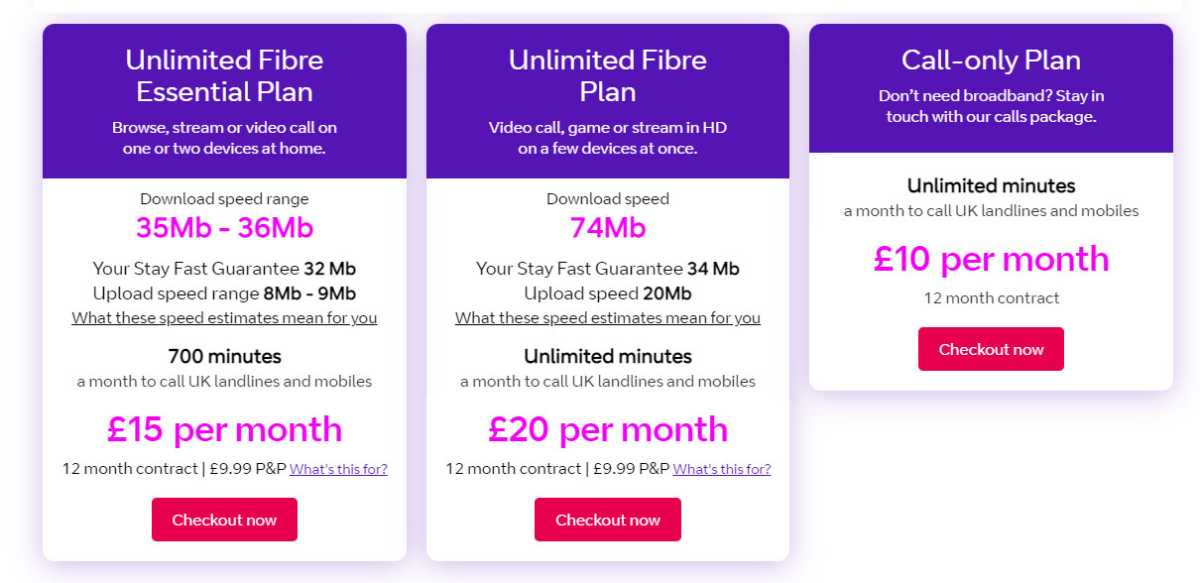 BT
Do I qualify for discount broadband?
BT Home Essentials is available to those:
On Universal Credit
Receiving Pension Credit (Guarantee Credit)
On Jobseeker's Allowance (you must be eligible)
On Income Support
On Employment and Support Allowance (you must be eligible)
If you're already using BT broadband and are eligible for the reduced rate, you should be able to switch to the new plan right away, without any additional costs.
You'll need enter your postcode on BT's website to see the maximum speeds available in your area. Find out which speed is right for you in our broadband guide.
BT also offers a call-only plan for £10 per month with unlimited minutes too, a service that otherwise costs £39.05 per month – that's a £348 saving in a year. However, this isn't particularly competitive when many SIM-only deals offer mobile data alongside unlimited minutes for less than £10 per month.
You can also see the best broadband deals we've found this month.
How to sign up for BT Home Essential on Universal Credit
To sign up online, enter your postcode on BT's website to see what's available at your address. You'll need to provide your date of birth and National Insurance Number so BT can check your eligibility.
If you are eligible, you'll get access to Home Essentials for a year, even if your benefits end before that period. BT will run another eligibility check after a year to see if you're still eligible for the reduced rate and will get in touch if anything changes.
You can pay your BT bill via:
Direct Debit
Debit or credit card
Phone, using a debit or credit card
Bank transfer
A PayPoint
Which broadband providers offer reduced broadband rates for those on Universal Credit?
BT isn't the only provider to offer a special low-cost scheme: Vodafone has a similar deal, Essentials Broadbandoffering download speeds up to 38Mbps for just £12 per month.. The difference with BT's offer is that it also includes 700 minutes of calls to UK landlines and mobile phones, but Vodafone's does not.
Virgin has a Essential Broadband plan but this gives you only 15Mbps for £15 per month.
Hyperoptic has a Fair Fibre plan that has 50Mbps download speeds for £15 per month (and no activation fee) or £20 for 150Mbps. Coverage is limited, so you'll need to enter your postcode to see if you can get Fair Fibre.
Similarly, Community Fibre is available only to certain London postcodes, but is offering 20Mbps for £12.50 per month.
If you are a single-person household, you may prefer to share your smartphone's internet connection and use it like a mobile router. See affordable SIM-only dealsalong with the best SIM-only deals for kids. The only drawback there is that most affordable SIM-only plans have a data cap, whereas all the broadband plans give you unlimited data, so you can stream as much Netflix (or TikTok) as you like.
Related stories