For years we've been writing about the one health-related feature that could make the most popular watch in the world even more popular.
Apple
has
reportedly been working on a way to add non-invasive blood sugar monitoring to the Apple Watch
. Insulin-dependent diabetics need to test their blood sugar before injecting themselves with insulin prior to each meal. The current process involves a painful and relatively expensive test (unless you have insurance) which is performed at least three times per day.
To test their blood sugar, diabetics use a small needle called a lancet to draw a drop of blood which is then placed on a disposable test strip; this strip is inserted in a device called a glucometer. After processing for a few seconds, the result appears on the screen and it will determine how much insulin will be injected by the diabetic. While there are other companies working on wearable non-invasive blood sugar monitors, it seems that everyone has been looking for
Apple
to incorporate such a feature into the Apple Watch.
In China, the Huawei Watch 4 will deliver high blood sugar warnings

The head of Huawei's consumer unit, Yu Chengdong (better known by readers as Richard Yu, his Americanized name)
recently put up a post
(via
HuaweiCentral
) on China's Weibo social media site that includes a tantalizing video highlighting some of the features of the Huawei Watch 4. The clip shows a woman adding sugar to her coffee but removing it when she receives an alert from her timepiece that she is at risk of hyperglycemia which is high blood sugar.

The Huawei Watch 4 hyperglycemia warning via Google Translate
Huawei
says that the watch does not deliver on-demand blood sugar readings as diabetics would prefer. Instead, the watch runs through "10 health indicators in 60 seconds," according to Yu. He adds that these indicators include "heart rate, pulse wave characteristics, and more." The feature was released after Huawei went through 100,000+ hours of monitoring and tested 800,000+ pieces of blood sugar data. The important thing to note is that no additional hardware is required.
Richard Yu wrote on social media, "I am very happy to share with you one of our latest achievements  in the field of health. Since 2013, Huawei has continued to innovate and cooperate with authoritative medical institutions in the past decade, and has made new progress in the field of blood sugar health. Huawei watches will be the first to support high blood sugar research assessment research."
The Huawei Watch 4 needs to be worn for seven days before the high blood sugar warnings will appear

Huawei notes that the Huawei Watch 4 is not a medical device and the information derived from the device is for reference only. Those wishing to use the feature on their watch must be over 18 and signed up for a blood sugar health research program run by a third-party medical institution. Type 1 diabetics, who have a pancreas that fails to produce insulin, are also not supposed to use the technology. Type 2 diabetics have a pancreas that produces less insulin over time, and they are insulin resistant.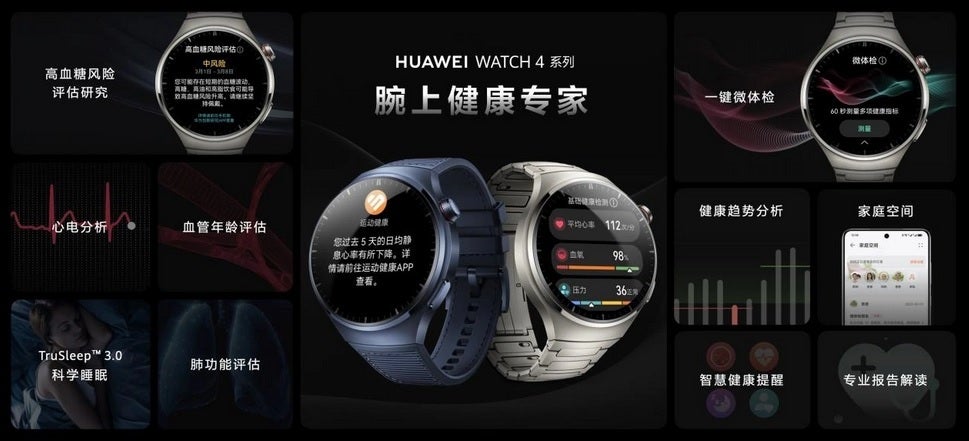 The Huawei Watch 4 and Watch 4 Pro will be released on May 30th
When a Huawei Watch 4 user has high blood sugar, as in the video clip mentioned earlier, the watch will note that there is a risk of hyperglycemia and states "excessive intake of high-sugar high-oil and high-fat diets may lead to increased risk of high blood sugar." The Huawei Watch 4 needs to be worn full-time for seven days before the hyperglycemia alert starts to work.
Huawei has already unveiled the Huawei Watch 4 for global markets and did not mention this feature which means that for now, it will be limited to models produced for the Chinese market. The watch sports a 1.5-inch AMOLED display and runs on HarmonyOS 3.1. There is a 46mm model in Venus White (2,899 Yuan), Magic Moon Black (2,699 Yuan), and Saturn Brown (2,899 Yuan). The 48mm Pro variant is available in Jupiter Brown (3,399 Yuan), Martian Titanium (3,999 Yuan), and Blue Earth (3,699 Yuan).
The device has other health-related features including testing for Blood Oxygen readings and electrocardiogram (ECG) analysis. The Huawei Watch 4 delivers up to 3 days of battery life (14 days in ultra-long battery life mode). Similarly, the Huawei Watch 4 Pro supports 3 days of battery life (21 days in ultra-long battery life). The timepiece is waterproof to 5ATM and will be released in China on May 30th.