Intro
Which one should you go for: the iPhone 15 Pro Max with its bigger screen, larger battery and brand new periscope zoom camera, or the more petite iPhone 15 Pro which has the same A17 Bionic chip, but is so much easier to use with one hand and carry in a pocket?
Apple is expected to officially unveil the iPhone 15 Pro Max and iPhone 15 Pro in the middle of September, but leaks and reports from industry analysts have painted a nearly complete picture of what the two devices will look like.
So let's go over the expected differences and see just what are the advantages of getting the 15 Pro Max over the 15 Pro, and which one is the better choice for you.
iPhone 15 Pro Max vs iPhone 15 Pro expectations:
Pro Max has a 6.7-inch screen, Pro has a 6.1-inch
Both have A17 Bionic chip
Both have 8GB RAM, same storage options
Pro Max comes with much larger battery
Same main and ultra-wide cameras
15 Pro Max has a 5X-6X zoom lens, 15 Pro has 3X zoom
Both get USB-C port
Table of Contents:
Design and Display Quality
The only difference is in size
Both these carry the 'Pro' name which means that they share a number of common advantages over the regular iPhone 15 and the iPhone 15 Plus models.
Namely, both the 15 Pro Max and the 15 Pro have a display with extremely slim bezels, both adopt a new and more durable titanium material for the frame, and both also have a much larger and more powerful camera system. Oh yes, and both come with a matte glass finish compared to the glossy one used on the non-Pro models.
But while they do differ from the non-Pro versions, there aren't any styling differences between the 15 Pro Max and the 15 Pro.
The only design difference is the obvious one in size: the iPhone 15 Pro Max remains an extra-large phone that is heavy, hard to use with one hand and not at all comfortable to carry in a pocket. The iPhone 15 Pro, on the other hand, while not exactly tiny, is way more compact and is far easier to operate with one hand.
Both devices, because of their added features and extra camera weigh more than the vanilla versions. However, compared to last year's Pro iPhones, the lighter titanium frame should contribute to some slight reduction in weight, which is definitely appreciated.
One new feature that the 15 Pro and Pro Max share is the new Action Button, which replaces the mute switch, an element that's been on iPhones since the very beginning. This new Action Button is expected to be an exclusive feature for the Pro models, so it's not coming to the vanilla models.
Earlier rumors claimed we could see haptic volume and power buttons replacing the familiar physical keys, but that's not happening after all and all iPhone 15 models will have the same physical keys as before.
All iPhone 15 models come with IP68 water and dust protection, and also all have the new USB-C port, the same port that all your other electronics use, which is great. There is no difference in the Face ID system either.
Performance and Software
Same awesome A17 chip on both, same performance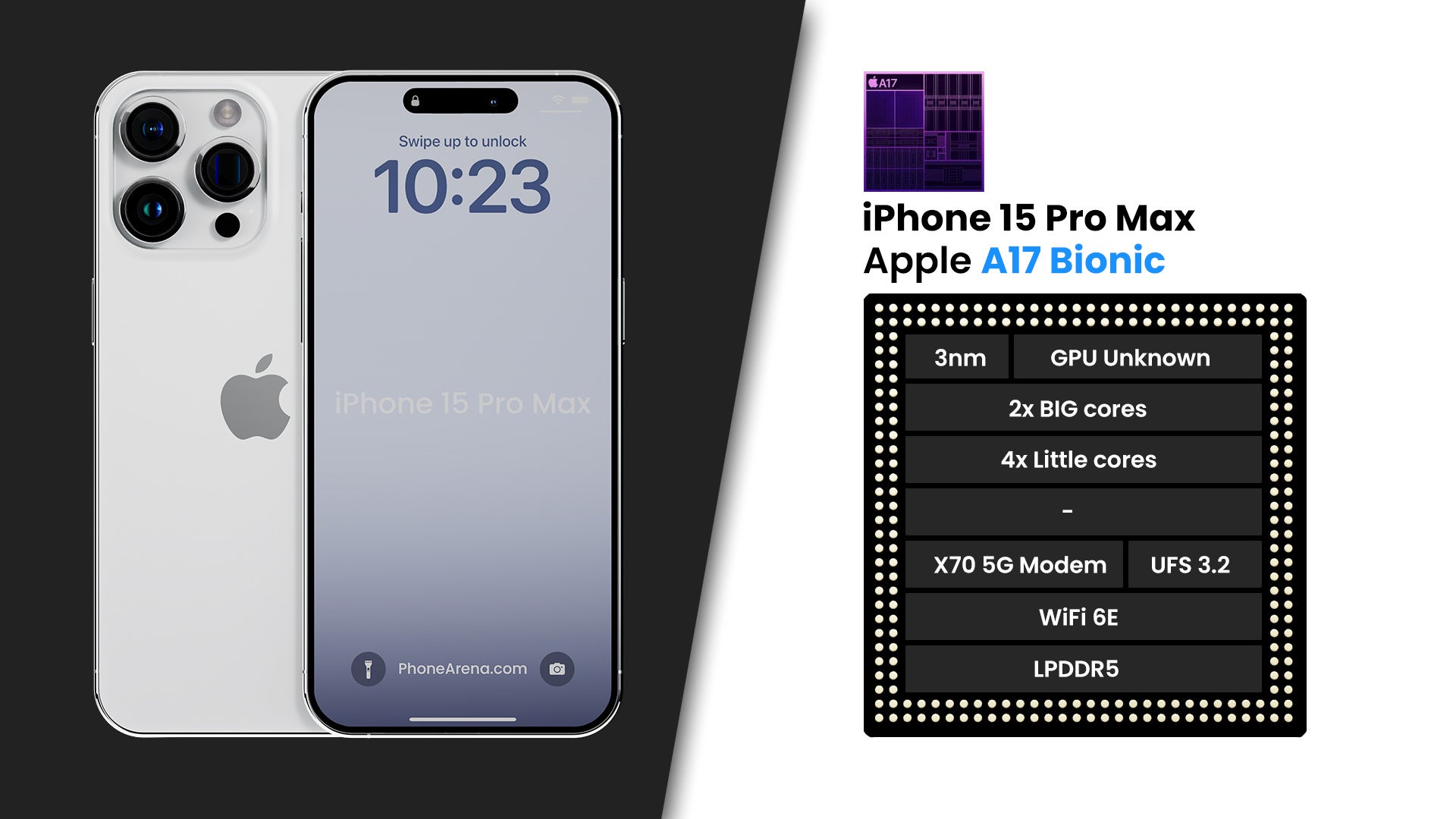 Both the iPhone 15 Pro and 15 Pro Max will be powered by the Apple A17 Bionic chip. This is first 3nm chip on a smartphone, a big technological leap over the 4nm chips used earlier. This new density will allow for a lot more transistors and we expect notable differences in both performance, but also in power efficiency.
The 15 Pro and 15 Pro Max will both come with 8GB of RAM, an improvement over the 6GB RAM in the 14 Pro series. However, the type and speed of the RAM memory has not changed, it's the same LPDDR5 type as before.
The 15 Pro Max thanks to its larger size has one advantage: it can stay cooler for longer, so if you play really heavy games it will throttle less and despite both phones having the same chip, the 15 Pro Max might feel a bit better optimized for gaming.
As usual, Apple will use the same iOS 17 software across all iPhones, so no differences here.
In the US, all iPhone 15 models will come with eSIM only, same as the previous models, just keep in mind that you will not be able to use a physical SIM with these phones. International models might still support the physical SIM feature.
Camera
The 15 Pro Max has a new periscope zoom lens so it has much better image quality beyond 5X zoom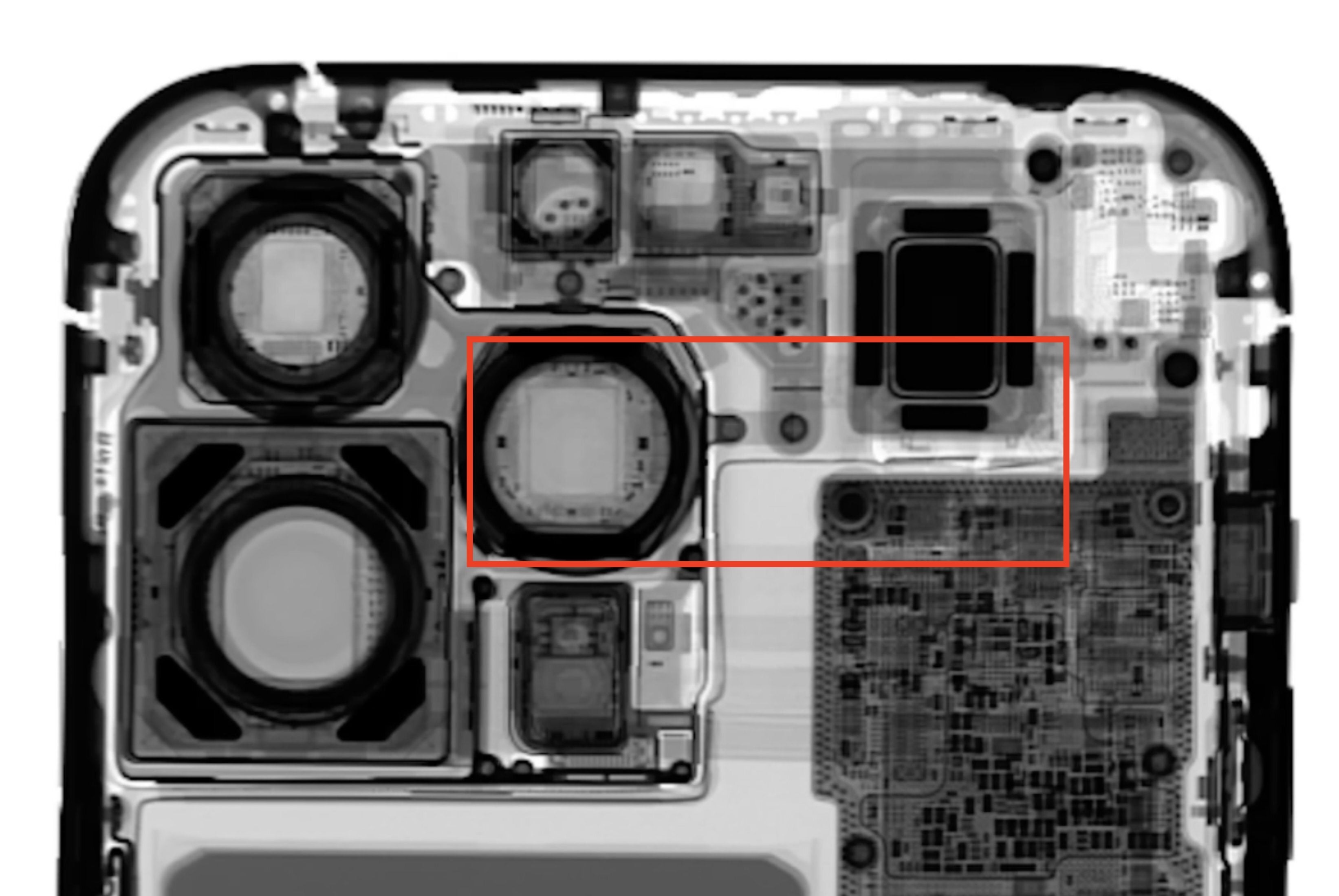 The periscope camera on the iPhone 15 Pro Max will take up a lot of space, image via @VadimYuryev
You have three cameras on the back of the iPhone 15 Pro and the 15 Pro Max: a main camera, an ultra-wide shooter and telephoto zoom.
Both models are expected to get a slightly larger sensor for the 48-megapixel main camera (compared to the previous generation), and both share the same ultra-wide camera.
However, while the 15 Pro has the familiar 3X zoom lens, the 15 Pro Max swaps that for a brand new periscope style zoom lens with a native 5X or 6X zoom.
Apple has previously used the same zoom camera on the Pro and Pro Max model, but it seems that this periscope zoom lens just takes up too much space and it was not possible to fit it inside the smaller 15 Pro model. Rumors predict a slightly larger iPhone 16 Pro model is in the works and that one will be able to fit the periscope lens next year.
So what does this mean for image quality?
First of all, the 15 Pro Max will clearly have a huge advantage in image quality at longer zoom ranges and it will likely go beyond the current 15X zoom limit. Expect to see much longer zoom ranges at up to 30X. However, the lack of a 3X native lens also comes with some downsides: image quality at 3X to 5X will suffer and you might no longer have a 3X portrait mode option on the 15 Pro Max.
Video quality will be affected in a similar way with that new periscope zoom lens.
Rumors suggest that Apple might introduce 8K video recording on the 15 Pro series for the first time on an iPhone. We would also love to see slow motion 4K120 footage like Sony Xperia phones have, but that remains not very likely.
Audio Quality and Haptics
Both iPhone 15 Pro models come with a main bottom-firing speaker and a secondary speaker located in the earpiece.
With the iPhone 13 family, Apple made a big leap in loudspeaker quality, but since than it has hit a limit and we do not expect to see huge improvements in audio quality this year, but still some slight improvement is possible. The larger 15 Pro Max model because of its sheer size usually has boomier audio than the more compact 15 Pro.
In terms of haptics, Apple has been using the industry-leading Taptic Engine for years and it will continue doing so in the iPhone 15 Pro series. Expect the same excellent haptics as before, no changes on that front.
Battery Life and Charging
The 15 Pro Max expected to have nearly 35% larger battery size
We don't yet know the exact battery sizes for the iPhone 15 Pro and the 15 Pro Max, but since the screen size and overall dimensions of the phone are barely changing, we can safely assume that batteries will be roughly the same size as on the previous generation.
That would mean a roughly 4,300mAh battery on the 15 Pro Max and around a 3,200mAh battery size on the 15 Pro. We did the math and it works out to a nearly 35% larger battery on the Pro Max model. Combine this with the larger form factor that better tolerates overheating and has some power efficiency benefits, we can expect a nearly 40% longer real-world battery life with the Pro Max model.
For most users, this would mean that with an iPhone 15 Pro Max, you can go two days between charges, while with the smaller iPhone 15 Pro you have to charge every night.
Of course, these are merely predictions and we will be able to tell with certainty come September, but set your expectations around that level.
The new USB-C port on both iPhones is excellent news so you can use the same cable that you use for all your other electronics, so we are really happy about this.
Both 15 Pro models are also rumored to support fast UFS 3.2 transfer speeds, again good news.
However, this new USB-C port does not mean we will actually get faster charging speeds, and so far we doubt that would be the case. So we expect both iPhones to still fully charge in around 1 hour and 40 minutes with the same speeds as earlier (27W for the 15 Pro Max, 23W for the 15 Pro).
And yes, both will have the cool MagSafe wireless charging technology which works at 15W.
Specs Comparison
Here is an overview of the specs of the iPhone 15 Pro Max and the 15 Pro:
iPhone 15 Pro Max
iPhone 15 Pro
Size
159.9 x 76.7 x 8.25mm
unknown
Screen
6.7″ OLED
120Hz ProMotion
6.1″ OLED
120Hz ProMotion
Processor
A17 Bionic
3nm
A17 Bionic
3nm
RAM, Storage
8/128GB
8/256GB
8/512GB
8/1TB

LPDDR5

8/128GB
8/256GB
8/512GB
8/1TB

LPDDR5

Cameras
48MP main
12MP ultra
12MP 5X-6X zoom

12MP front

48MP main
12MP ultra
12MP 3X zoom

12MP front

Battery
4323 mAh*
3200 mAh*
Charging
USB-C
27W wired
MagSafe
USB-C
23W wired
MagSafe
*assuming same battery size as on last year's devices.
Summary and Final Verdict
This year, you have one more reason to buy the iPhone 15 Pro Max over the more compact iPhone 15 Pro: the periscope zoom camera. If you plan on using that longer zoom range, and if you care about the longer battery life and larger screen, the 15 Pro Max is a no brainer.
For those who prefer a compact phone, however, not much has changed. The 15 Pro Max still feels quite gigantic and despite an expected reduction in weight, it will still be on the heavy side. Those people would be better off with the more petite iPhone 15 Pro.
Which camp do you belong to?