Intro
What new features does the iPhone 15 Pro bring? And how does it compare to last year's iPhone 14 Pro model?
With the iPhone 15 Pro in the final stages of development before its expected mid-September launch, we have already seen leaked parts, design drawings and analyst reports about the major new features, so in this article we compare the iPhone 15 Pro vs 14 Pro based on that information.
The big highlight of the iPhone 15 Pro is the next-generation Apple A17 chip, the first one built using the cutting edge 3nm technology, but you also have a new titanium body, an upgraded camera system, a brand new USB-C port and more.
Is that enough to convince iPhone 14 Pro users to upgrade to the 15 Pro? Let's take a look.
iPhone 15 Pro vs iPhone 14 Pro expectations:

New A17 chip
An upgrade to 8GB RAM
Same screen size
Same storage options
Larger main camera sensor
New titanium body
New Deep Red color
Mute Switch replaced by programmable Action Button
Same-ish battery size
Same-ish charging speeds
Table of Contents:
Design and Size
Slight differences in physical size, but new Titanium finish, Action Button and USB-C!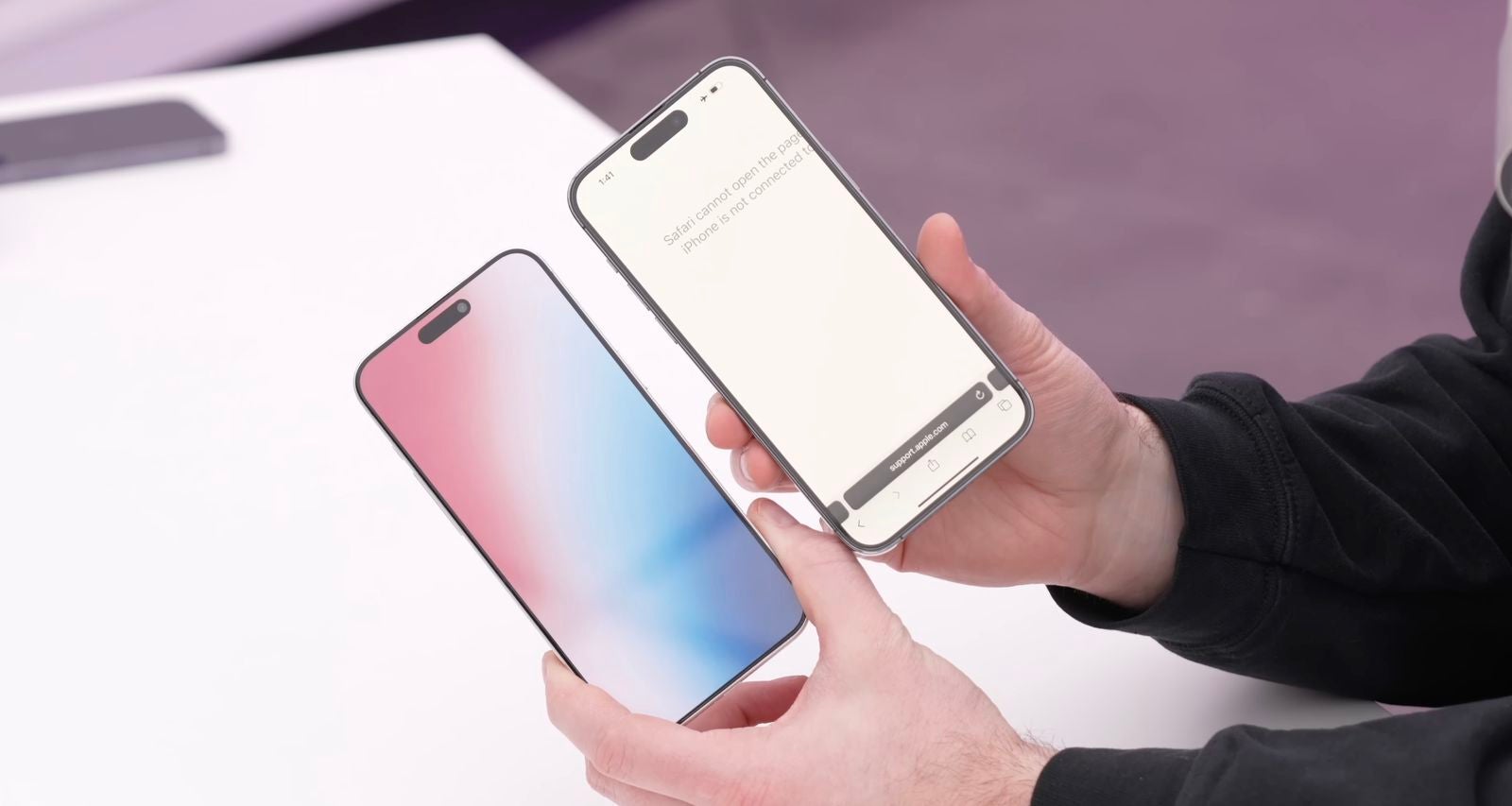 (Image Courtesy – Unbox Therapy) iPhone 15 Pro to have super slim bezels
The iPhone 15 Pro is expected to have a similar footprint as the iPhone 14 Pro, but the size will not be exactly the same, so chances are your iPhone 14 Pro cases will not fit the new model.
We don't have the exact dimensions just yet, but reports suggest that the iPhone 15 Pro will be slightly narrower and possibly weigh less than the 14 Pro.
The weight reduction comes from the new material that Apple will use for the mid-frame of the 15 Pro. This will be the first iPhone generation to use titanium, while previous iPhone Pro models used polished stainless steel. Titanium is more resistant so it should sustain damage better and it also weighs less. We have already seen it used on the Apple Watch Ultra, and it's held up very well there.
This new material will also come with more of a matte texture, a change from the glossy finish used on the 14 Pro which was an absolute fingerprint smudge magnet.
Early rumors also claimed the iPhone 15 Pro will have crazy new haptic buttons instead of the physical keys, but Apple has given up on those plans. However, we will have one new element: the so called Action Button which will replaced the current mute switch, and it will be programmable so you could still set it to mute the phone, but also you could choose it to do something different.
The most impactful design change, however, will be the iPhone 15 Pro switching to USB-C after years of Apple using its own Lightning port. The USB-C port will allegedly support fast transfer speeds, but you might need an MFi compatible cable and charger to use its full capacity.
Both the iPhone 15 Pro and iPhone 14 Pro are expected to feature the same IP68 water and dust protection rating, in case you were curious.
The iPhone 15 Pro is expected to retain the familiar matte glass back finish on the back, just like the iPhone 14 Pro. Chances are the 15 Pro will come in a choice of four colors:
iPhone 15 Pro / 14 Pro Colors:
Some shade of black
Some shade of white
Some shade of gold
Deep Red on 15 Pro, Deep Purple on 14 Pro
The 15 Pro is also expected to come in a similar slim box as the 14 Pro with only a cable, but no charging brick with it.
Display Differences
Much slimmer bezels for a more elegant look
Both the iPhone 15 Pro and the 14 Pro will have the same sized 6.1-inch OLED screen.
These displays are manufactured by Samsung using the company's latest and most advanced OLED panels. The iPhone 14 Pro hits 2,000 nits peak outdoor brightness, and the 15 Pro might raise the bar even further on that front.
Expect to see slight improvements in the color accuracy, but remember that iPhones already have incredible well calibrated screens, so those will probably not be improvements that the average user will notice much.
Both models will support 120Hz refresh rate ProMotion technology that can go from 1Hz for static content like lock screen wallpapers to 120Hz when you are scrolling for a buttery smooth experience.
The most noticeable improvement, however, might be in just the appearance of the screen. The iPhone 15 Pro is rumored to have extremely slim borders around the screen at just 1.55mm, thinner than the 2.17mm ones on the 14 Pro. These would actually be the thinnest borders ever on a smartphone.
We don't expect to see changes with Face ID. Apple introduced the Dynamic Island with the 14 Pro and it will also be there on the 15 Pro, so the looks will be the same.
Performance and Software
This new A17 chip is a big deal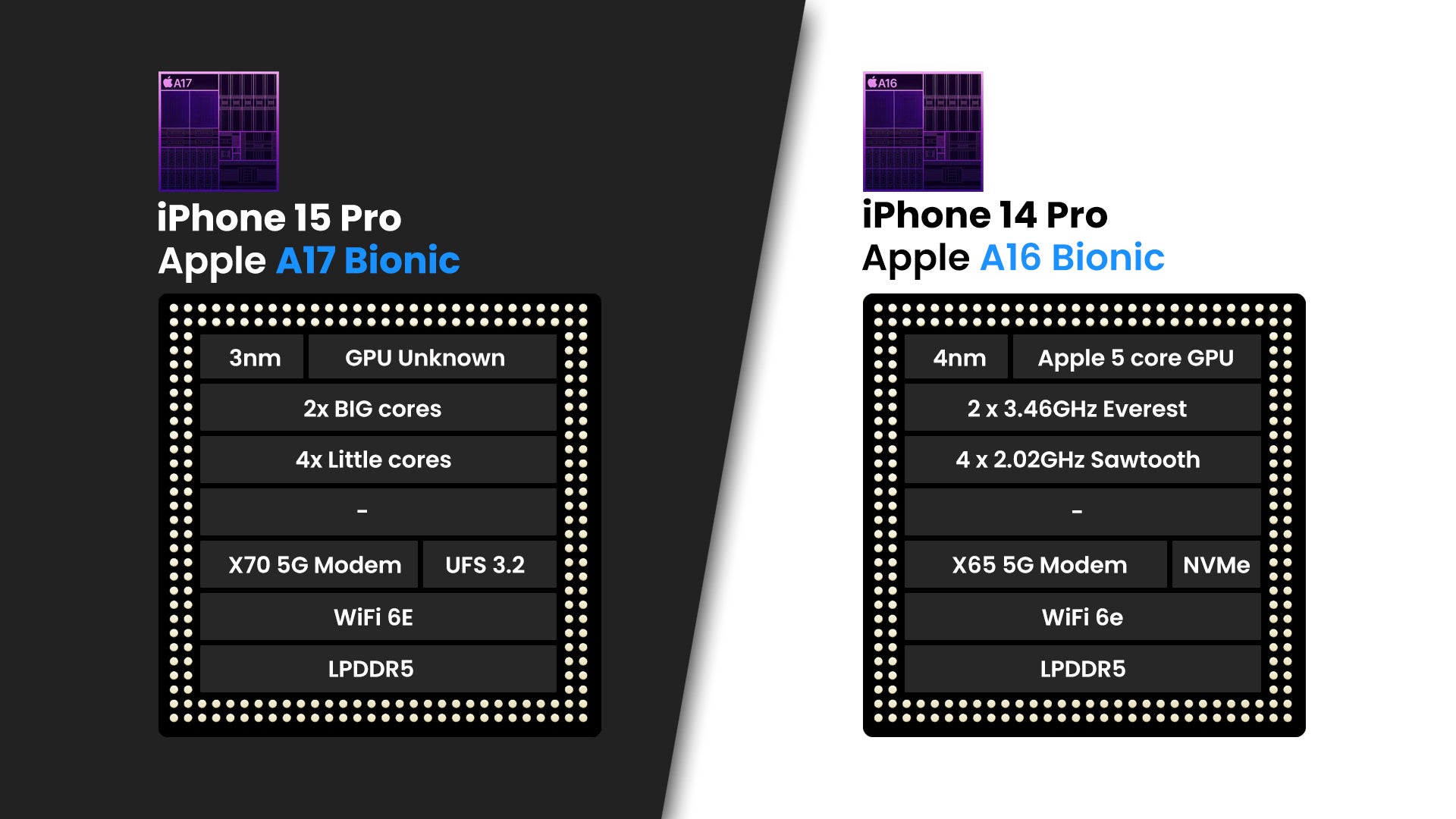 The iPhone 15 Pro will come with the new A17 Bionic chip, Apple's first chip built using the new 3nm manufacturing process.
At just 3nm, you have incredible miniaturization which allows to stuff way more transistors in the same sized chip and achieve great performance and efficiency gains over the 5nm technology Apple has used in the past few years.
We have not yet seen leaked benchmark scores that would give us specific numbers, but expect solid double digit growth in performance on the 15 Pro over the 14 Pro.
This naturally means that gaming performance will also get a welcome boost, so gamers have every reason to be excited about the 15 Pro.
The new iPhone is also getting 8GB of RAM, more than the 6GB RAM on the 14 Pro, and this should help apps stay alive in the background longer and help with multitasking. And in case you are wondering, Apple sticks with the same LPDDR5 RAM technology on both the 15 Pro and 14 Pro (an upgrade to faster LPDDR5X RAM is projected for the iPhone 16 Pro series).
As for software, both phones will run on iOS 17 which is also coming around in the middle of September, just like the iPhone 15 Pro.
There are no differences in the software, both phones come with Apple's usual commitment to five or six years of software updates, more than other manufacturers. The only thing worth mentioning is that the iPhone 15 Pro – since it launches a year later – will get one extra years of software updates.
There were also rumors about the iPhone 15 Pro coming with a new Apple-made modem. In the past few years, Apple has been working on its own modem chip to replace Qualcomm modems it currently uses, but this has turned out to be a bigger challenge and the iPhone 15 Pro will ultimately come with a Qualcomm modem.
Chances are that we will see the new Qualcomm X70 modem, an upgrade over the Qualcomm X65 5G modem used in the 14 Pro with some improvements to coverage range, latency and power efficiency.
Both phones also support the Emergency SOS via satellite functionality, which can be a life-saver when you are out of cellular coverage.
Camera
Mostly the same camera system with a bigger main camera sensor
You can instantly recognize an iPhone in a crowd just because of that stovetop look of the camera system and that is not changing in the iPhone 15 Pro.
Both phones will have a triple rear camera system consisting of a 48-megapixel main camera, a 12MP ultra-wide shooter and a 3X zoom camera.
You should know that the fancy 5X-6X periscope zoom lens is not coming to these smaller sized iPhones, it will be an exclusive feature of the 15 Pro Max model.
As for differences between the 15 Pro and the 14 Pro, reports suggest the main 48-megapixel camera will actually use a new and larger sensor on the 15 Pro, which should give images a quality boost, especially in low light.
We have not heard much about upgrades to the ultra-wide and/or zoom cameras so far. We also don't expect huge changes
Apple has also been criticized for introducing excessive sharpening on the iPhone 14 Pro, so we will be curious to see if it addresses those concerns in the 15 Pro.
Some rumors also suggest that the iPhone 15 Pro might get 8K video recording, but we are not certain this is indeed happening, so let's wait and see.
Audio Quality and Haptics
Both the iPhone 15 Pro and 14 Pro are expected to have a practically identical loudspeaker system with a main, down-firing speaker and then a secondary speaker in the earpiece.
We don't expect any huge changes in terms of audio quality, and the iPhone 14 Pro currently provides solid audio quality with a good amount of bass and an overall boomy speaker.
Similarly for haptics, Apple has been using the Taptic Engine for years and it has been an industry leader in that regard, so we don't expect much to change in the iPhone 15 Pro.
Battery Life and Charging
The more efficient chip should help get some battery life gains
The iPhone 15 Pro is expected to have roughly the same battery size as the iPhone 14 Pro, which comes with a 3,200mAh battery.
However, we do expect to see the new model improve the actual battery life thanks to the efficiency that comes with the new 3nm processor. Don't expect huge transformation in battery life, but a low double digits improvement is quite possible.
With the new USB-C port on the iPhone 15 Pro, all eyes are on Apple about the charging speeds.
The iPhone 14 Pro unofficially supports up to 23W charging rates, which is fine, but definitely slower than many rival Android phones. It takes around 1 hour and 40 minutes to fully top up the iPhone 14 Pro, while some Android phones can top up fully in less than 30 minutes.
The new USB-C port in the iPhone 15 Pro is an opportunity to change that, but we don't have high hopes Apple will actually do this, so stay tuned for more news about that.
Both the iPhone 15 Pro and 14 Pro support MagSafe wireless charging at the standard 15W charging speed.
Specs Comparison
We have summarized all the major specs highlight of the two models right below:
iPhone 15 Pro
iPhone 14 Pro
Size, weight
unknown
147.46 x 71.45 x 7.85 mm
206 g
Screen
6.1″ OLED
120Hz ProMotion
1.55mm bezel
6.1″ OLED
120Hz ProMotion
2.17mm bezel
Processor
A17 Bionic
3nm
A16 Bionic
5nm
RAM, Storage
8/128GB
8/256GB
8/512GB
8/1TB

LPDDR5

6/128GB
6/256GB
6/512GB
6/1TB

LPDDR5

Cameras
48MP main
12MP ultra
12MP 3X zoom

12MP front

48MP main
12MP ultra
12MP 3X zoom

12MP front

Battery
3200 mAh*
3200 mAh*
Charging
USB-C
23W wired
MagSafe
Lightning port
23W wired
MagSafe
Summary and Final Verdict
Overall, the iPhone 15 Pro shapes up to be one of the bigger upgrades in the series with a new generation chip, a more durable and light-weight body, more elegant styling with the slimmer bezels and the welcome USB-C port.
However, all of that is expected to come at a premium: the iPhone 15 Pro starting price is rumored to be $100 more than that of the 14 Pro, meaning that we are looking at a possible $1,100 price for the base model.
Should you upgrade if you already own the 14 Pro? It's obviously still early to say, but from what we know now it seems that the changes are not so significant for us to advocate an immediate upgrade, but they are a bit more profound than usual, so those coming from an older device, should definitely consider the 15 Pro.
Which new feature of the iPhone 15 Pro are you most looking forward to?