Tablets have always been the "middle child" in a world of smartphones and laptops. Depending on who you ask, they are either "like a phone with a larger display", or a noticeably less practical, less powerful alternative to an "actual computer/laptop".
Respectively, when making a new tablet, companies like Apple, Samsung, Xiaomi, Lenovo, etc., can go one of two directions:
Make a tablet tablet, which one would use for watching videos, listening to music, drawing, taking video calls, playing games – in other words, a tablet that's not trying to fully replace your laptop (if you have one)
Make a tablet that's openly trying to be a "more portablet, touch-enabled" alternative to a laptop – this approach usually will involve an ecosystem of accessories such as a stylus, keyboards, adjustable stands, and even mice
And as someone who did try to be "an iPad person", I can tell you that the 11-inch iPad Pro (2018) didn't seem to do enough to replace my MacBook, which I'm using for work and other creative programmes/tasks, which require "a real computer". As far as entertainment is concerned, playing games on the larger display compared to my phone was fun but noticeably less immersive than taking things to the next level (with an Xbox and a TV). Oh, and I'm not someone who'll watch a movie while holding a tablet in my hands, so that's out of the question.All that aside, the most awkward moments of my relationship with the iPad was when we didn't see each other. In other words, when I didn't even remember to use it because it wasn't in my vicinity, or because it was out of battery. In fact, my iPad Pro ended up sitting in a drawer for months before I thought: "Hey! What about that iPad, which I haven't used in ages? I should probably get rid of it." So… I did.
And it's almost as if my Google Nest Mini was listening to me, and told Sundar Pichai & Co exactly how to make a tablet for me – one that would make me give tablets a second chance. And Google did it! The new Pixel Tablet might be the most obvious, yet most useful take on a tablet we've ever seen, regardless whether you're on team Android or Apple.
So, is this the Android tablet's big comeback? I don't want to jinx it, but as far as I'm concerned, it might be!
Pixel Tablet and Android's big comeback: Unlike Apple, Google isn't trying to turn the tablet into a laptop; Pixel Tablet's Charging Speaker Dock is the best tablet accessory Apple never made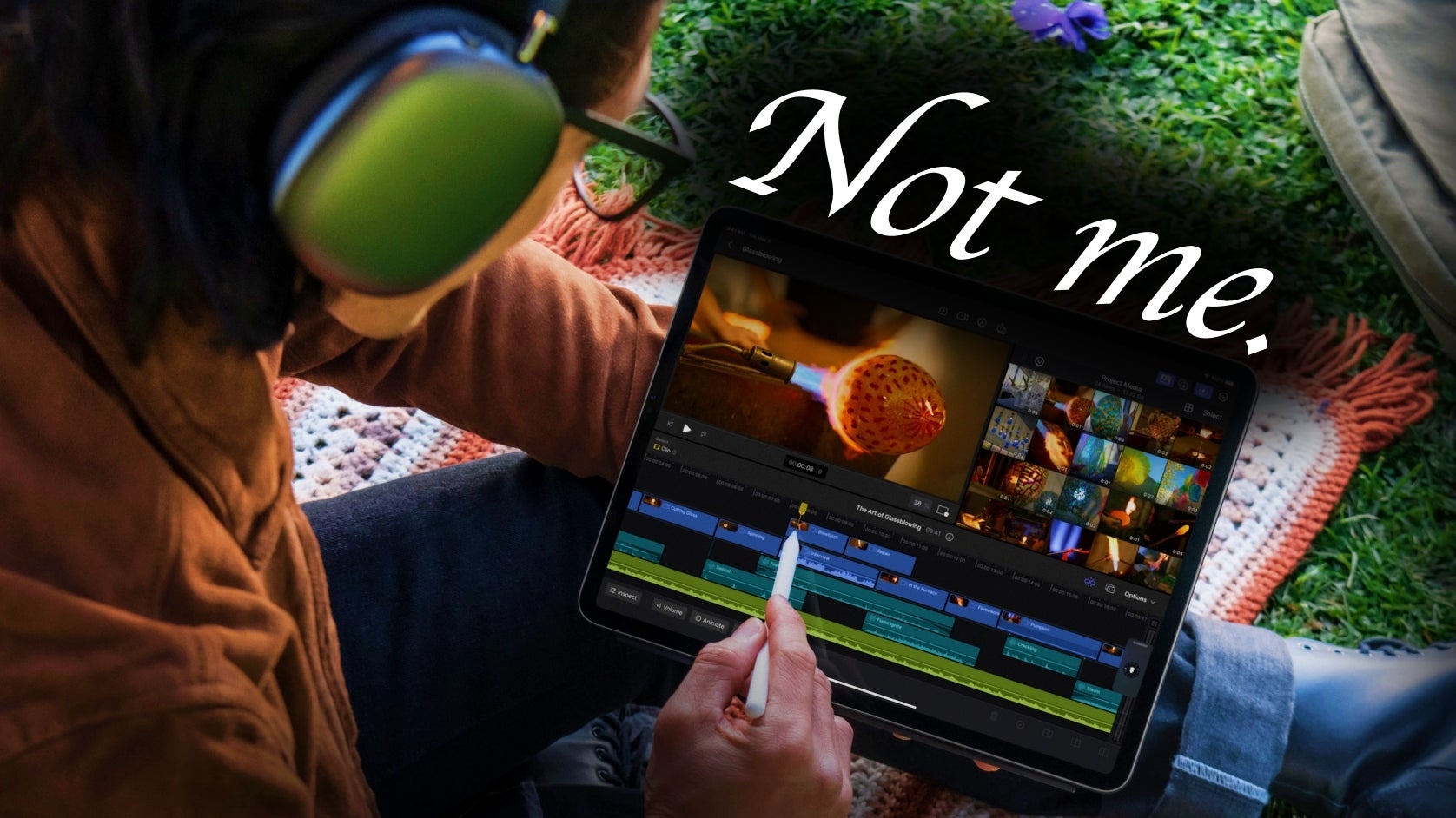 There are two types of tablets – the ones that aren't trying to replace your laptop, and Apple's iPad Pro.
Speaking of tablets replacing laptops, I can't ignore the big news. After what felt like forever, iOS 17 is finally bringing Apple's Logic and Final Cut pro-grade apps to the iPad, and some people are absolutely buzzing, and I absolutely get it. But that's the Pixel Tablet's story, and it's Google that helped me realize the iPad Pro simply wasn't the kind of tablet I was looking for.Unlike
Apple
Google isn't trying to turn the tablet into a laptop, and that's refreshing to see. In fact, Google took what's great about tablets, and instead of doing all it can to turn the Pixel Tablet into the best laptop replacement, it worked hard to turn it into the best tablet.
And it all starts with a dock…
Despite the exciting dock, which makes it a 2-in-1 tablet-Nest Hub combo, the Pixel Tablet's biggest superpower might still be the Google Assistant – the smartest voice assistant in the world. As a Google Nest Mini user, Google's smallest Assistant-enabled Bluetooth speaker proves to be of great help around the house. I'm pretty sure I'd appreciate an upgrade, which gives me an 11-inch detachable screen for watching videos, better speakers (hopefully), video-calling abilities, and so much more.
Since they are mostly just a big slab of glass without any special input methods, tablets allow for many accessories for added functionality. But I think Google just made the one accessory that can potentially rule them all. It's what we in the tech space like to call a "game-changer". We love using the term loosely, so do with it what you will…
Five reasons the Pixel Tablet's Charging Speaker Dock is a game-changer: Pixel Tablet is also your Google Nest Hub – a more practical combo than a folding phone-tablet?
Of course, the dock will be able to wirelessly charge your Pixel Tablet, but the wireless charging aspect isn't even the most helpful bit; the main focal point is that the dock also serves as your Pixel Tablet's station/stand, which means you'll be way less likely to find your Pixel Tablet dead; I think of it as a tablet that "never runs out of battery" (don't worry, the Pixel Tablet has a USB-C charging port too)
The dock means you'd always know where to find your Pixel Tablet because it serves as a home base for a device that usually would always get misplaced, or end up in a drawer when it's not in use; everyone who owns a tablet, which they use/keep mostly in and around the house would know what I'm talking about
One of the biggest selling points for those who are into the whole "smart home" thing is the fact that once attached to the dock, the Pixel Tablet turns into a whole other device – a Google Nest Hub; this means your tablet is functional as a clock, Bluetooth speaker, a security camera, and more, even when you're not really using it – if that sounds unfamiliar, it's because no other tablet can do that
I'm not sure if this one deserves a separate bullet point (and I don't like to waste those), but one of the Pixel Tablet's superpowers is that it combines two completely separate devices into one (a tablet and a Nest Hub), but this also means they bring even more added functionality – for example, the Nest Hub-like dock is also a speaker, which should (technically) make Pixel Tablet the best sounding tablet; I already mentioned the fact that the Pixel Tablet will also be your clock, security monitor (if you have a Nest Cam), and standalone video calling device
Last but not least, one of the biggest selling points of the new Pixel Tablet might quite literally be its $500 price tag – it seems like Google thinks tablets shouldn't cost as much as laptops, and I can't agree more; the cherry on top (which might be slightly controversial – more on that in the end), is that the Pixel Tablet comes bundled with the dock, which makes it the exciting device that it is
You know how every once in a while you find a diner where the food is so good, you think it could cost more? That's how I feel about phones like the Pixel 7 and Pixel 7a – considering the current state of the smartphone market, I think they are underpriced. And that's how I feel about the Pixel Tablet too. No, I don't think it should cost more but I can see how an Apple version starts at $700-800. Like the iPhone.
Is Google playing it safe or cheap? Pixel Tablet won't be as "perfect" as expected: A very basic display, lack of full Nest Hub functionality, and high prices outside of the US
The Pixel Tablet means Google has begun solving real problems here. Not necessarily through clever software (not to undermine that) but through innovative hardware – something extremely rare in smart tech. The fact that the Pixel Tablet & Dock (it's that important) bring innovation to Android tablets, a forgotten category by most, is even more impressive.
Tablets are usually always dead/misplaced, and Pixel Tablet promises to deliver a solution for thay through its innovative docking station. Frankly, I find it more exciting than the Pixel Fold. There, I said it.
Of course, just like every phone, tablet, earbuds, or smartwatch ever made, the Pixel Tablet isn't shaping up as a "perfect" device. Here are some potential deal-breakers, which we might discuss in detail in a future story:
The first potential deal-breaker (for display junkies) will be Google's decision to equip the Pixel Tablet with an ancient display, which isn't just an LCD panel (instead of OLED) but also runs at 60Hz – I can't even tell which is lesser "evil" here
This one can be blamed on our high expectations (since Google never promised anything), but as it turns out, the speaker driver found in the Pixel Tablet's dock will measure 43.5mm (the same size as the one in the smaller Nest Hub), which isn't known for its incredible sound; we don't know other details about the speaker situation like the power output in watts, and whether Google's made any improvements to the speaker unit (assuming this is the same one from the Nest), so don't be disappointed just yet, I guess
What is quite disappointing is the limited dock functionality; apparently, the dock won't be able to do much on its own (like a Nest Hub); Google's website says the Charging Speaker Dock won't be able to connect to a second dock (for a more immersive sound experience), or to other Google speakers/Nest Hubs; this tells us that the dock likely doesn't even support basic Bluetooth connection
High prices – ironically, unlike the great price for the Pixel Tablet in the US, people in Europe, the UK, and the rest of the world won't be able to enjoy the same amazing deal – the Pixel Tablet costs a whopping €680 here in Germany, which makes no sense given that the difference in the price of the Pixel 7a in the EU and the US is just $10; speaker of high prices, the price of the dock alone (if you were to buy an additional one, or a replacement) is $129, which seems ridiculously high considering the dock doesn't have the functionality of a Nest Hub ($99); the brilliant stand-case Google introduced is also rather expensive ($80)