---
The Withings Body Smart scale tracks body composition metrics to reach your fitness goals, but its drawbacks may outweigh its benefits.
You might need more than a standard bathroom scale for fitness objectives like losing fat or gaining muscle. A basic body scale can only tell you how much you weigh, but not how much of that weight is fat or muscle.
The Withings Body Smart scale does more than measure your weight. It also measures your body composition, which can help you monitor and achieve your health goals.
For instance, the Body Smart scale can show you that your weight is low, but your fat percentage is high, which may not align with your fitness targets. You can then adjust your diet and exercise accordingly.
Despite its potential benefits for your well-being, the scale has some drawbacks that could deter you from buying it.
Design and features
The Body Smart scale comes in black or white in a sleek and sturdy design. It has a tempered glass top, a circular metal centerpiece, and a digital display to show your stats.
The platform measures 12.8 x 12.8 x 1.1 inches, and you can measure your weight in kilograms, pounds, or stones. It can support up to 440 pounds.
The Body Smart tracks metrics such as your body fat percentage, bone mass, muscle mass, fitness level, and heart rate. You can view these data on the Withings app, where you can also customize your goals and get personalized insights.
You can adapt the scale according to your needs and preferences. For example, if you have a pacemaker or other internal medical devices, they might interfere with the electrical signal that the scale uses to measure your vitals. In that case, you can enable the Weight-Only Mode.
Another feature is the Eyes-Closed Mode, which hides your weight on the scale display and only shows you other measurements. This way, you can focus on the overall health trends rather than obsessing over every pound or ounce. But, of course, you can always access your weight and other data on the app whenever you want.
The scale runs on four AAA batteries, already included and installed. According to Withings, the batteries can last up to 15 months, but after that, you must replace them with new ones — which can be a downside for users who prefer to recharge an internal battery.
The Body Smart works best on a hard, flat surface like a tile or wood floor, but if you have a carpeted floor, you can use the carpet feet that come with the scale.
Usability and performance
The Body Smart recognizes different users and displays their names on the scale, so you can keep track of your data without confusing it with someone else's. It can identify up to eight users and sync their data to their respective Withings accounts.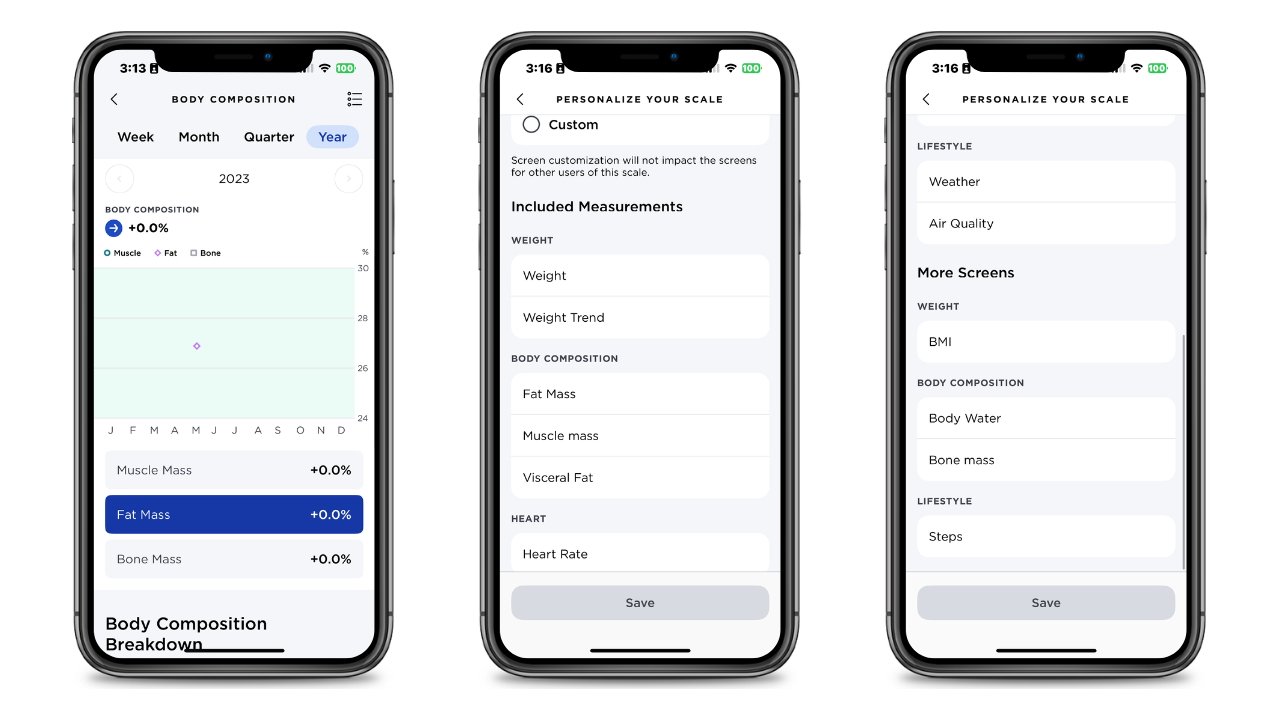 The Withings app shows body composition metrics and other data that can help the user reach fitness goals
The scale's accuracy was tested by two users of different ages, heights, weights, and fitness levels. On various days, the users weighed themselves multiple times, ensuring that the scale was placed on a hard, flat surface and standing still and centered on the scale when taking a measurement. Then, they compared the readings for consistency.
The results were disappointing. The scale consistently showed weight variations from 0.1 to 0.2 lbs. for both persons on different days.
This variation might be tolerable for users who want a ballpark figure of their weight, but they can buy a standard scale for much less and avoid the extra cost and complexity. On the other hand, health-conscious users who value fitness metrics enough to purchase a $100 scale may find these discrepancies unacceptable.
Yet, this does not mean that the scale is worthless. It can still provide a general idea of your health trends and alert you if you get closer or further away from your fitness goals — but don't expect the scale to give precise measurements every time.
The Withings app
One of the benefits of the Body Smart scale is that it can connect to the Withings app on your phone via Bluetooth or Wi-Fi. This way, you can see your health data on your iPhone and access personalized insights and tips.
The Withings app is compatible with Apple Healthand it was easy to set up and sync data during the initial setup, but there is a catch.
The scale only offers a free trial of the Withings app for one month. After that, you must pay a monthly fee of $9.95 or an annual fee of $99.50 to keep using all the app's features.
These costly fees can be downright maddening for users suffering from subscription fatigue, who have already paid about $100 for the scale.
The Withings Body Smart scale can measure your body composition metrics that would be hard to track otherwise. Still, these benefits may not justify the trouble of dealing with a scale that gives inconsistent readings and the extra cost of subscription fees.
Withings Body Smart scale — Pros
Measures body composition metrics

Wi-Fi and Bluetooth enabled

Integrated with the Withings app and compatible with Apple Health
Withings Body Smart scale — Cons
Inconsistent weight readings

A subscription fee is required for full access to the Withings app

No rechargeable internal battery
Rating: 2.5 out of 5
Where to buy
You can buy the Withings Body Smart scale exclusively from their website for $99.95 and subscribe to the Withings app for $9.95 monthly or $99.50 yearly.